I am so excited to start my Indie Business class with these crafty ladies as my teachers! I have been getting really serious in my head about doing Etsy as a profession. I balance my time between a lot of things, but out of most of the things I do, making art and jewelry for Etsy is probably what I am most excited about and what I am most desperate to pursue.
I just did an interview for a new documentary about Art and Economics today. Its just in the beginning phases, but I might hire the fantastic
Mr Zeek Earl
to film some How To's for my blog sometime within the next few months. Would you like to see some How To's anyone?
Anyway, in the interview they asked me a lot about why I do what I do, why do I love Etsy, why did I choose to pursue Jewelry Design after graduating with a degree in Illustration, how do I see myself involving Illustration in what I do on Etsy in the future, and lots of other great questions. I hope to post some of the interview up on the blog when they are done editing it too! After the filming, I got really excited about Etsy, more than I already am. It is great to be asked questions about why I do what I do because I feel like that never really happens. I love questions that help me to verbalize all these things that I think about all the time.
In addition to the interview, my roommate Scott who does all the woodworking for me for my Miniature Book Necklaces taught me how to use all his tools today so I can do all the woodworking! Yay! I am so excited. I plan on spending my day tomorrow working away in the woodshop whipping out tons and tons of book covers.
All this being said, today was a really encouraging day. It made me excited about Etsy, excited about running my own business, and made me really eager to get more serious about my work. I have been following Elsie's blog,
A Beautiful Mess
, for awhile now and have been debating whether to sign up for their indie business class or not. I have been saving most of the money from the book necklaces to put back into the business since I am only in the beginning stages. And I have been weary of putting the money anywhere else. But when I finally got down to thinking about it, signing up for the class would probably be the wisest investment possible right now! The three awesome ladies leading it, Elsie from
A Beautiful Mess
, Leigh-Ann from
Freckled Nest
, and Jill from
Lune Vintage
, seem so wise in the Indie Business world and I am ready to learn! I am so excited about the new journey I am about to take and ready to get my artsy on! Yes, I said it. I have been teased my whole life for being "Artsy" but whateva, it's true. I'll take it. And use it to take over the wooooorld!!! Buahahahah! Just Kidding haha.
This is me feeling really happy today!
I hope you are all having a lovely day, and if you are someone pursuing your own indie business either in the local arena or the online world, you should totally sign up! Then we can be buddies and chat about all our class projects together. FUN! I'm so exciteeeeeeed.
Sign up here: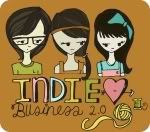 click the cute button!